Olympus LS-100 Linear PCM Digital Music Recorder
Sorry, this product is temporarily out of stock.
The Olympus LS-100 was discontinued by Olympus Australia in July 2019 - This model has been superseded by the Olympus LS-P4
SPECIFICALLY DESIGNED TO DO JUST ABOUT ANYTHING.
Presenting the Olympus LS-100 Multi-Track Linear PCM digital music recorder. This compact little wonder helps working musicians write music, create demos, rehearse, and capture live shows. It's ridiculously easy to use and musicians will appreciate the onboard tuner, metronome and lissajous function. Enjoy capturing every note of an ear-splitting live performance, having squeaky clean recording with the XLR inputs and because it's designed to do it all, the convenient multi-tracking capabilities.
24BIT / 96KHZ LINEAR PCM RECORDING
XLR INPUTS AND PHANTOM POWER SUPPLY
MULTI-TRACK RECORDING
BEST-IN-CLASS MICROPHONES.
Olympus' most advanced microphones ever. Capture every note and nuance with 90-degree directional, stereo condenser microphones, supports up to 140 dBspl of sound pressure. You'll have all the range you need to clearly record the loudest live performances with minimal clipping. Independent left and right recording levels help you maintain balance and make adjustments on the fly.


XLR INPUTS AND PHANTOM POWER SUPPLY.
Two XLR inputs let you connect guitars or other line-output sources directly using a ¼ inch RCA jack. Noise is balanced on both the positive and negative side of the input to achieve a true, clear signal. Provides 48V-24V of phantom power to run a microphone or other devices.
EIGHT CHANNEL MULTI-TRACK RECORDING.
Features two channel recording with eight channel playback. Run both left and right inputs into one track for deep, rich sound. Once tracks are recorded; edit, mix-down onboard, and even burn directly to a CD without a PC connection.
ONE DEVICE WITH MANY TOOLS.
Full of tools to help musicians work better. There's a metronome and a tuner. It comes with 4 GBs of memory that's expandable to 64 GBs. Choose between recording in linear PCM or MP3 format. A pre-recording buffer ensures you'll never miss a second of a live performance. Instantly move files to your PC or Mac via a USB port.
Download the Olympus LS-100 Flyer
Download the Olympus LS-100 Instruction Manual
OLYMPUS LS-100 Features
24 BIT/ 96 KHZ LINEAR PCM RECORDING

Sound that's even better than what you hear on a compact disc. Every nuance of every note and syllable is captured and played back with a rich and resonant quality.

90-DEGREE DIRECTIONAL, STEREO CONDENSER MICROPHONES

A frequency range of 20 Hz to 20,000 Hz captures low bass and high treble frequencies with exceptional clarity. Independent left and right recording levels help you maintain balance and make adjustments on the fly.

ARRAY OF FEATURES TO MINIMIZE NOISE.

Separate audio processor and systems circuitry to maintain a high signal-to-noise ratio. Eliminates cross-channel interference and enables clear signal transmission.

XLR/PHANTOM POWER SUPPLY

Designed with pro musicians in mind and comes with integrated XLR Phantom power supply and phone jack for external communications. The built-in instrumentation amplifier cuts slight noise and amplifies signals, allowing the use of lengthy cables.

EIGHT TRACKS

Multi-tracking and editing is a staple of professional recording, and is a technique where multiple separately-recorded sounds are mixed together to create a single stream of sound. On the LS-100, up to 999 tracks can be recorded in the fixed 44.1 kHz/16 bit format for CD writing, and up to eight tracks can be edited simultaneously.

PACKED WITH OTHER USEFUL MUST-HAVES.

Additional functions for music recording including; overdubbing, voice syncing, tuner and metronome.

LIVE RECORDER WITH PLENTY OF USES BEYOND MUSIC.

It's ideal for podcasting. Journalists and foley artists will appreciate the clear sound. Use it to build soundscapes or capture ambient noise. Bird and nature enthusiasts can record wildlife with lifelike clarity.

VOICE GUIDANCE.

Voice feedback for actions lets the user operate the Olympus LS-100 without looking at the display.

VOICE ACTIVATION.

Voice Activation makes automatic starting and stopping of the recorder an extra benefit that saves time and energy.
Click here for the CS-141 - Olympus LS-100 Carry Case
Click here for the WJ4 - Windjammer for reduced wind noise while recording 
↵ Use original player
← Replay
Olympus LS-100 Technical Specs
Recording Format

Linear PCM (WAV) /MP3

Internal memory

4GB

External memory

Max. 64GB (Optional)

Frequency characteristics
(Internal microphone)

20Hz~20kHz

MIC jack

φ 3.5mm, impedance 10kΩ

LINE IN jack (MIC jack)

φ 3.5mm, impedance 12.5kΩ

XLR/Phone jack

impedance 10 kΩ

Phantom power supply

48V/24V

EAR jack

φ 3.5mm, impedance 8 Ω or more

Maximum headphone output

10mW + 10W (at load of 16Ω)

Speaker

Built-in ø 23 mm round dynamic speaker

Maximum speaker output

480mW (Speaker8Ω)

File editing function

Yes (PCM/MP3)

Wireless remote control set (RS30W)

Yes (Optional)

Voice activated recording

Voice Sync

Play Sync recording

Yes

Pre-recording function

Yes

Multi Track function

Yes

Over Dubbing function

Yes

Metronome function

Yes

Tuner function

Yes

Lissajous function

Yes

MP3 Convert function

Yes

CD Write function

Yes

Lowcut filter

Yes (100Hz/300Hz)

Battery

Lithium-ion rechargeable battery x1

Battery life (Rec)

Approx. 12 hours 30 minutes (Lithium-ion battery)

External Power Supply

AC adapter A514 (Bundled)

Dimenstions

159.0 x 70.0 x 33.5mm
3.25" x 2.75" x 1.31"

Weight

280g
9.8 oz

Compatible OS (USB Connect)

Microsoft Windows XP/ Vista/7 Mac OS X 10.4.11~10.7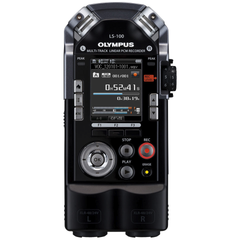 Sale
+ CLICK IMAGES TO ZOOM