Olympus DS-9500 - Professional Digital Dictaphone


Click here to see what's in the DS-9500 box?
Features
Dictation File Encryption 256bit or 128bit (.ds2 audio files)
Windows 10, Windows 11 & MacOS Compatible
Use WiFi To Share Dictation
Meeting / Conference / Interview Recording to mp3 or PCM wav Files
Compatible with Dragon for Windows & Mac Voice Recognition
Large 2.4 inch Colour Display
Impact Resistant Casing
PIN Code For Enhanced Security
Compatible with AS-9000 and older AS-7000 Transcription Kits
Olympus Australia One Year Warranty
Replaced The Olympus DS-7000 (in April 2018)
The Power of Speech: Easy, Mobile and Secure
The new top of the range Olympus DS-9500 digital voice recorder is the industry standard in professional dictation equipment. Designed for medical, legal and other professionals who rely on secure, flexible and reliable tools, it features real-time 256-bit audio file encryption, a redesigned Intelligent Dual Microphone, Wi-Fi function and next-generation Olympus Dictation Management Systems (ODMS R7) dictation module software. The Olympus DS-9500 is quite simply dictation defined.
Enhanced Speech Recognition Accuracy by Intelligent Dual Microphone System
The Olympus DS-9500 incorporates low noise omni-directional microphones and Shock Resistant Mounting which reduces touch noise from your hand. The Triple-Layer Pop-Filter blocks the wind noise when talking into the microphones. Dragon speech recognition accuracy is dependent on the signal-to-noise ratio of the recording, which means achieving clearer voice and lower noise are the two key factors. The Beam Forming function works to suppress noise from surroundings, enhancing your voice. Users can choose three different modes, Dictation for Quiet Environments, Dictation for Noisy Environments and Conference Recording mode for interviews and meetings.
Efficient Workflow with Wi-Fi
Share your encrypted digital dictation anytime, anywhere. Thanks to in-built Wi-Fi connectivity, Authors no longer need to carry a PC to download the dictations to the ODMS workflow since you can send the dictations via Wi-Fi at any time. Files can be transferred directly to your local/network folder, or in case you want to send your dictations outside of the usual workflow, the e-mail function can be used. Files sent to a folder managed under ODMS can receive the transcription status back on the device in a timely manner, allowing the Authors to follow up accordingly. For Administrators, device configuration can be deployed wirelessly from the ODMS System Configuration Program.


Enhanced Security
The Olympus DS-9500 256-bit AES encryption system protects data from illegal access. This is supported when recording in the DSS Pro ( .ds2 ) audio format. This encryption standard meets high security standards set by governments worldwide. In addition to securing the data, the Olympus DS-9500 device lock feature protects the device from unauthorised access by utilising a 4 digit PIN code.


Full Workflow Integration
Packaged with next-generation Olympus Dictation Management System (ODMS Release 7) dictation module software, compatible with Dragon voice recognition software from Nuance, the Olympus DS-9500 is designed to an essential part of any professionals dictation workflow directly out of the box. Support for up to 32 index marks per dictation file makes it easy to locate critical information.



Endless Flexibility
A vast array of functions and accessories, audio codecs and indexing options, as well as support for multiple work types and users, makes the Olympus DS-9500 customisable enough to suit any purpose, in any IT environment. The ODMS R7  software is compatible with Windows 10, or for Mac users the supplied DSS Player Plus for Mac software is compatible with MacOS 10.10and above.


Intuitive Controls
Since the slide switch is the most used part of the device, it is essential to offer a durable and reliable switch in order to support users in a professional environment. The optical switch simplifies the structure of the component to reduce the potential risk of defect, yet offering excellent usability and control at the same time.
Impact & Alcohol Wipe Resistant Body

The Olympus DS-9500 body is designed to withstand external shock to make sure it supports day-to-day work in a professional environment. The device can resist damage from a drop of 1.5m high. In addition, thanks to the alcohol resistant  finish, the device can be wiped with alcohol based cleaners.


Olympus DS-9500 Technical Specs
Display
| | |
| --- | --- |
| Display type | Full Colour TFT LCD with white LED backlight |
| Display size | 36.72mm x 48.96mm / 2.4 inch (240 x 320 pixels) |
Memory
| | |
| --- | --- |
| Internal memory | 2GB |
| External memory | up to 32GB SD |
| Storage media | SD, SDHC |
Device Operation 
| | |
| --- | --- |
| Main switch | Precise slide switch (REC / STOP / PLAY / REW) |
| Power switch | Yes (ON/OFF) |
| Programmable button | 3 programmable smart buttons |
Power Supply
| | |
| --- | --- |
| Requirements | Rechargeable Lithium-ion battery (1350mAh) |
| External power supply | A517 or F-5AC AC Adapter (supplied) |
| Battery | LI-92B |
| Battery life | Recording (QP mode): Approx. 9.5 hours |
| Internal battery charge | AC / USB / Cradle (all using Olympus rechargeable battery only) |
Recording
Built-in microphone
Intelligent Two Microphone System
Microphone type
Electret condenser | 8Ø x 2
Directional characteristic
Dictation1 (Omni-Directional mono)
Dictation2 (Narrow)
Conference (Digital Directional stereo)
Microphone sensitivity
3 Level (High/Middle/Low)
(Conference Mode = Auto)
Recording format
DSS / DSS Pro / WAV/ MP3
Voice activated recording
VCVA
Hands-free recording
Dictation & Transcription
via optional Footswitch RS-31H
Level meter
Yes
Playback
| | |
| --- | --- |
| Playback speed control | Slow / Normal / Fast |
| Cue / review | Yes |
Editing & Workflow
Partial erase
with DSS (.dss) / DSS Pro (.ds2)
File erase
Erase all files/ Erase single files
Insert
with DSS / DSS Pro
Overwrite
with DSS / DSS Pro / WAV
Append
with DSS / DSS Pro / WAV
Index mark
32 per file (DSS Pro/WAV/MP3), 16 per file (DSS)
Author ID setting
10
Work type ID setting
20
Priority setting
Yes (High / Normal)
Verbal comments
up to 32 per file
Folders
Up to 7 (name changeable)
200 files per folder
Text editor
Yes
Pending
Yes
Additional Functions
| | |
| --- | --- |
| Wireless features | Built-in Wi-Fi |
Security
| | |
| --- | --- |
| Device lock by PIN | Yes |
| File encryption / decryption | DSS Pro real time encryption (128 or 256 bit) |
| Lock single files | Yes |
Wi-Fi/LAN
Standards
Wi-Fi: IEEE802.11 a/b/g/n/ac
Wired LAN: 10BASE-T/100BASE-TX
Frequency band
2.4GHz band: 2.412GHz~2.472GHz
5GHz band: 5.180GHz~5.825GHz (for indoor use only)
Security
WEP
WPA2 (Personal/Enterprise)
WPA/WPA2 mixed mode (Personal/Enterprise)

Enterprise
PEAPv0 / PEAPv1 /
EAP-TLS / EAP-TTLS / EAP-PWD
Encryption
WEP: 64/128 bit,
WPA2: TKIP/AES,
WPA/WPA2 mixed mode: TKIP/AES
RADIUS Server
Windows
Windows Server 2008 / 2012 / 2016
Linux
FreeRadius 2.1.12
General
Housing colour
Black
Dimensions
120.8mm (H) x 49.8mm (W) x 18.6mm (D)
Weight
116.5g (including battery)
Microphone jack
Ø3.5mm mini jack | impedance 2kΩ
EAR jack
Ø3.5mm mini jack | impedance 8Ω or more
Speaker
Built-in 11 x 15mm square dynamic speaker
Maximum speaker output
320mW (8Ω speaker)
Compatible OS
Windows 7,8.1,10
Mac OS 10.10 - 10.14
Compatible software
Olympus Dictation Management System (ODMS) R7 / DSS Player for Mac V7
Docking station
CR-21 (supplied), CR-15 (optional)
Supplied items
LI-92B Lithium-ion rechargeable battery, A-517 AC Adaptor, KP-30 microUSB Cable, CS-151 Carrying Case, CR-21 Docking Station, Olympus Dictation Management System (ODMS) License (Dictation Module)
Languages
EN / DE / CZ / DK / ES / FR / NL / PL / RU / SV/ IT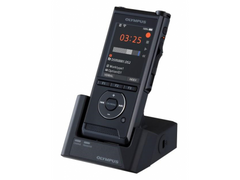 Sale
+ CLICK IMAGES TO ZOOM