Olympus Pro Dictation & Transcription Bundle DS-9500/AS-9000
Bundle and Save $
When you purchase a single Olympus DS-9500 professional digital dictaphone and an Olympus AS-9000 professional transcription kit save $129 off RRP (DS-9500 is $799 incl. GST and AS-9000 is $429 incl. GST).
Olympus DS-9500 Digital Voice Recorder / Dictaphone
Top of the range Olympus DS-9500 professional digital dictation recorder or dictaphone with the latest ODMS R7 (Olympus Dictation Management Software) Release 7 Dictation Module software. Comes with everything - rechargeable battery, USB and charging docking station, software for Windows 10, Windows 11 and MacOS.
Olympus AS-9000 Transcription Kit
To compliment your Professional digital dictaphone the latest professional transcription kit Olympus AS-9000 comes with all your transcription typist needs - four-pedal RS31 USB foot control, Olympus transcription headset E102 and the latest ODMS R7 transcription module software.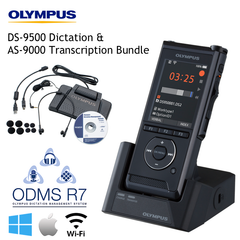 Sale
+ CLICK IMAGES TO ZOOM