Olympus DS-9000 Dictation Kit with Docking Cradle
Olympus DS-9000 Digital Dictation Kit with Dock
The natural replacement for the now-discontinued Olympus DS-5000 or DS-7000 dictaphones, the Olympus DS-9000 Kit comes packed with all latest Olympus have to offer:
What is the difference between the Olympus DS-9500 & DS-9000?
One thing, wifi connectivity. Both the DS-9000 and DS-9500 are exactly the same unit except for the wifi option on the DS-9500. The Olympus DS-9500 has inbuilt wifi connectivity the DS-9000 does not. If you plan to use the dictaphone and dock it either on your desk or hand it to your typist pick the DS-9000. 
If you think that you might want to dictate and send audio from anywhere you might want to consider the DS-9500 or use the Olympus Dictation App. Please have a chat with us about the pros and cons of both if you are not sure.
Olympus DS-9000 Kit Features
Digital Dictation Individual File Encryption 256-bit or 128-bit (.ds2 audio files)
Windows 10, Windows 11 & macOS Compatible
Includes Olympus ODMS R7 Dictation Module licence key for Windows
Includes DSS Player Plus v7 licence for macOS
Dock to share dictation and keep your DS-9000 fully charged and ready to use
Meeting / Conference / Interview Recording to .mp3 or .wav Files
Compatible with Dragon for Windows Voice Recognition software
Large easy to read 2.4-inch Colour Display
Impact Resistant Casing
PIN Code For Enhanced Security
Compatible with AS-9000 and older AS-7000 Transcription Kits
Olympus Australia One Year Warranty
Replaced The

 

Olympus DS-7000

 

(in April 2018)
Upgrading from an Olympus DS-7000? 

The Olympus DS-9000 dictaphone is compatible with the dock used by the older discontinued Olympus DS-7000 dictaphone. You can use the Olympus DS-7000 docking cradle (CR-21) with the DS-9000. If you want to re-use your dock you can order just the DS-9000 dictaphone on its own (comes with new ODMS R7 Dictation Module licence) click here for the Olympus DS-9000 handset and software only.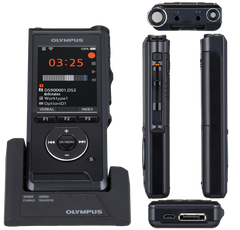 Sale
+ CLICK IMAGE TO ZOOM