Olympus DS-3500 - Digital Dictation Machine Dictaphone
Sorry, this product is temporarily out of stock.
The Olympus DS-3500 was discontinued by Olympus Australia in April 2018. The replacement model is the Olympus DS-9500 which can be used for both single speaker dictation and multi speaker interviews or meetings.
The new Olympus DS-3500 professional digital dictation system is designed to dramatically increase efficiency and streamline operations in any professional environment. Packed with premium features and intuitive controls, it's easily manageable, secure and absolutely mobile – an outstanding dictation device for wherever your job might take you.
Download the Olympus DS-3500 Product Brochure
The new Olympus DS-3500 is the replacement for the popular DS-3400 Professional digital dictaphone.
Enhanced Security
Dictaphone device password protection and DSS Pro real-time 128-bit or 256-bit file encryption makes the Olympus DS-3500 ideal for workplace environments that deal with sensitive information.
Full Workflow Integration
Packaged with the next-generation Olympus Dictation Management System (ODMS) dictation module software and compatible with Nuance Dragon NaturallySpeaking voice recognition software (Premium/Professional/Legal versions only), the Olympus DS-3500 is designed to become an essential part of any office's dictation workflow directly out of the box. Support for up to 32 index marks per dictation file makes it easy to locate critical information.
Endless Flexibility
A vast array of functions and accessories, audio codes and indexing options, as well as support for multiple worktypes and users, makes the Olympus DS-3500 customisable enough to suit any purpose in any IT environment. The ODMS software is compatible with Microsoft Windows 7, Vista and XP and Mac OS X as well as Windows Server and Citrix environments.
Superior Sound Quality
The Olympus DS-3500's redesigned, speech-optimised microphone is independently housed for flawless sound reproduction. It's the only Olympus Professional Dictation device to support DSS/DSS Pro, PCM WAV and MP3 recording formats. Note: The Olympus DS-3500 can also be used to record larger meetings, music and nature sounds thanks to it's PCM (Pulse Code Modulation) support.
Expandable Storage Capacity
Dual SD and microSD card slots allow for up to 32GB of total memory. The included 2GB microSD card holds up to approximately 306 hours of recording time.
Multi Language LCD
The Olympus DS-3500's 2-inch color LCD screen supports 3 languages, English, French and Spanish, as well as personalised welcome messages.
Longer Battery Life
A rechargeable Li-ion battery (710mAh), rechargeable through your computer's USB port, allows for up to 26 hours of recording time on a single charge.
Intuitive Controls
Redesigned push-button playback controls and three programmable function buttons allow for simple, easy operation.
| | |
| --- | --- |
| Product Class: | Professional Dictation Device |
| Mobile / Stationary: | Mobile and Stationary |
| SD / SDHC card: | Yes |
| microSD / microSDHC card: | Yes |
| Internal memory: | 2GB - 32GB (Micro SD) |
| USB Speed: | 2.0 |
| Display colour: | Colour TFT |
| Display Backlit: | Yes |
| Display Size: | 2" |
| Main Switch: | Push |
| HOLD switch: | Yes |
| Power switch: | Yes |
| Programmable button: | 3 Smart Buttons |
| Recording format: | DSS Pro , MP3 , WAV |
| Recording SP: | 306 h (with 2GB memory) , QP: 149 h (with 2GB memory) |
| Playback format: | DSS Pro, DSS, WAV, MP3 |
| Sampling SP: | 12 kHz, QP: 16 kHz |
| Sampling MP3: | 44.1kHz / 128kbps 44.1kHz / 256kbps |
| Sampling PCM: | 44.1kHz / 16bit |
| Overall (Hz): | QP: 200 - 7.000 Hz, SP: 200 - 5.000 Hz, 256 kbps (MP3): 50 - 20.000 Hz, 128 kbps (MP3): 50 - 17.000 Hz, 44.1kHz (PCM): 50 - 21.000 Hz |
| Direct recording: | Yes |
| New button: | Yes |
| Partial Erase: | Yes |
| Erase all files: | Yes |
| Erase single files: | Yes |
| Handsfree recording function via optional footswitch: | Yes |
| Verbal annotations (up to 32 per file): | Yes |
| Manual Rec level control: | No |
| VCVA recording: | Yes |
| Index: | Up to 32 per file |
| Rec Monitor: | Yes |
| Insert: | Yes |
| Overwrite: | Yes |
| Forward / Reverse Skip: | Yes |
| Repeat playback: | No |
| Cue/Review: | Yes |
| Fast forward and rewind: | Yes |
| Playback speed: | Slow/Normal/Fast |
| Time/date info: | Yes |
| Calendar Search: | False |
| Author ID Setting: | Yes |
| Worktype ID Setting: | Yes |
| Priority setting: | Yes |
| Pending File: | Yes |
| corresponding Audio software (name): | ODMS R6 - Olympus Dictation Management System, DSS Player for MAC |
| PC interface: | USB cable and docking station |
| Microphones: | 3.5 ø mm jack, impedance 2 kΩ. |
| Speaker Diameter: | Built-in ø23 mm round dynamic speaker |
| Max. working output: | 256 mW (8 Ω speaker) |
| Power Supply: | Lithium-Ion Battery LI-42B |
| Docking station with recharge function: | Yes (not supplied, optional extra) |
| Device standalone recharge function via USB: | Yes |
| Device standalone recharge function via AC adapter: | Yes |
| Weight: | 107 g (incl. battery) |
| WxHxD: | 114.5 x 49.8 x 17.5 mm |
| Menu languages: | EN, DE, CZ, DK, ES, FR, NL, PL, RU, SV |
| Lock single files: | Yes |
| Device lock by PIN code: | Yes |
| Device Locky by Fingerprint: | No |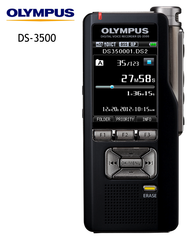 Sale
+ CLICK IMAGES TO ZOOM