Olympus DM-3 - Digital Meeting Recorder
Sorry, this product is temporarily out of stock.
The Olympus DM-3 combines CD-quality multi-format playback and recording with sophisticated features like Voice Guidance. With linear PCM (uncompressed WAV), MP3 and WMA compatibility, the DM-3 is ideal for anyone who needs crystal-clear sound anytime, anywhere.
The Olympus DM-3 is the replacement for the hugely popular Olympus DM-450 digital voice recorder.
Download the Olympus DM-3 Instruction Manual
Features
Mac & Windows compatible - plug and play so no software required 

Compatible with Mac OS X 10.7 Lion

Compatible with 32-bit & 64-bit Windows

Multi Content Player: music, podcast, audio books, Audible
Versatile recording quality options, including high quality PCM recording (CD quality, uncompressed WAV), mp3 and wma formats

4GB internal memory plus microSD slot

Enhanced voice guidance system

File Search function (keywords or dates)

Noise cancelling functionalities (Low-Cut & Voice Filter)

Calendar Function

Advanced Euphony options: expands the sound space to convey more realistic playback 
Users can enjoy a wide variety of media for work and leisure, including audio recordings, music, audio books and podcasts. The cutting-edge model matches top media players feature by feature with up to 4GB of flash memory, a microSD slot (for addng even more memory), versatile recording options, multilingual menus, a large backlit colour display and rechargeable battery.
What's more, the supplied Olympus Sonority file management software is compatible with both PCs and Macs although no software is required to access the recorder as it is plug and play on both Mac and Windows.
Classification
          Product Class    Digital Notetaker with PC Connection
          Mobile / Stationary    mobile and stationary
Storage Media
          Internal / Removable Media    Internal + Removable
          Internal memory    4 GB Flash Memory
          SD / SDHC Slot    No
          microSD / microSDHC card    Yes
          External Memory    microSD card (512 MB - 16 GB)
USB functionality
          USB Speed    USB 2.0 High Speed
          USB Storage class    Yes
          USB Audio class    Yes
          USB HID    Yes
Display
          Display Type    Full colour TFT display
          Display Size    35 x 46 mm / 2.2 ''
          Display Backlit    Yes
Device operation
          HOLD switch    Yes
          Power switch    Yes
PC control function
          Control Buttons    3 smart buttons
Recording Modes
          Recording format    PCM (WAV) / MP3 / WMA
          PCM (WAV) format   
          48kHz    5 h 5 min
          44.1kHz / 16bit    5 h 30 min
          WMA format   
          LP    939 h
          SP    473 h
          HQ    240 h
          STSP    240 h
          STHQ    120 h
          STXQ    60 h
          MP3 format   
          320 kbps    24 h 30 min
          256 kbps    30 h 30 min
          192 kbps    40 h 30 min
          128 kbps    61 h
Playback Modes
          Playback format    PCM (WAV) / MP3 / WMA
Sampling frequency
          PCM    44.1 - 48kHz / 16bit
          MP3    44.1kHz / 128 - 320kbps
          WMA    8 - 44.1kHz / 8 - 128kbps
Frequency response
          PCM (WAV) format   
          48kHz (PCM)    40 - 23.000 Hz
          44.1kHz (PCM)    40 - 21.000 Hz
          MP3 format   
          320 kbps (MP3)    40 - 20.000 Hz
          256 kbps (MP3)    40 - 20.000 Hz
          192 kbps (MP3)    40 - 19.000 Hz
          128 kbps (MP3)    40 - 17.000 Hz
          WMA format   
          STXQ    40 - 19.000 Hz
          STHQ    40 - 16.000 Hz
          STSP    40 - 9.000 Hz
          HQ    40 - 13.000 Hz
          SP    40 - 8.000 Hz
          LP    40 - 3.000 Hz
Record function
          Recording Scenes    Dictation, Conference, Lecture, User Defined Setting
          New button    No
          Rec Monitor    Yes
          Manual Rec level control    Yes
          VCVA recording    Yes
          Index    Up to 16 per file
          Erase all files    Yes
          Erase single files    Yes
          Partial Erase    Yes
          Overwrite    No
          Direct recording    Yes
          Timer recording    Yes
          Low Cut-Filter    Yes
          Zoom Mic. Setting (DVM)    Yes
          Verbal annotations (up to 32 per file)    No
Playback function
          Noise canceling function    Yes
          Voice filter    Yes
          Playback speed    Adjustable (50 - 600%)
          Cue/Review    No
          Fast forward and rewind    Yes
          EUPHONY    Yes
          Skip Playback    Selectable (file or time period)
          Alarm playback    Yes
          Repeat playback    Yes
          Continuous playback    Yes
          Random playback    Yes
Data organisation
          No. of folders for Voice    5
          Files per folder    999
          Folder Audible    1
          Temp mark    Yes
          File move    Yes
          File divide    Yes (Only PCM and MP3 files)
          File Copy (Folder to Folder)    Yes
          File copy (internal memory - external memory)    No
          Folder Podcasts    1
Workflow function
          Author ID Setting    No
          Pending File    No
          Priority setting    No
          Worktype ID Setting    No
Other Features
          Audible support    Yes (advantages: one file, bookmark function, chapter marks, speech optimized compression, additional informations like title description, author informations)
          Podcast support    Yes
          Voice feedback / guidance    Yes
          Remote Control    No
          AudioBook support    Yes
          Daisy Support    No
          Image support    No
          Visual Index function    No
Software
          corresponding Audio software (type)    Audio Management Software
          corresponding Audio software (name)    Sonority
Interfaces Input
          Microphone sensitivity    High / Middle / Low
          Microphone jack    3.5 ø mm / Impedance 2.2 kΩ
          Mac/PC interface    USB Cable
          Microphones    Built-in stereo microphones
Interfaces Output
          Speaker Diameter    Built-in ø23 mm round dynamic speaker
          Max. working output    280mW or more (8 Ω speaker)
          Earphone jack    3.5 ø mm jack, impedance 8Ω or more
Power Supply
          Device standalone recharge function via USB    Yes
          Power Supply    1 x Li Ion Battery
          External power supply    USB connecting AC adapter (A-514)
          Li-Ion battery life    Recording: Approx. 29 h (LP mode)
Playback: Approx. 22 h (LP mode) via earphones
Dimensions
          WxHxD    113.6 x 45.6 x 15.2 mm (without protrusions)
          Housing material    Metal
          Housing colour    Silver
          Weight    98 g
Languages
          Menu languages    English, German, French, Spanish, Italian, Russian
          Voice Guidance languages    English, German, French, Spanish, Italian, Russian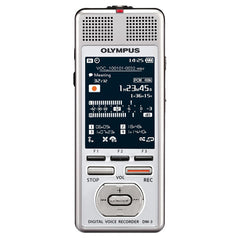 Sale
+ CLICK IMAGES TO ZOOM