Olympus WS-760M Digital Voice Recorder
Sorry, this product is temporarily out of stock.
The Olympus WS-760M was discontinued by Olympus Australia in April 2012 - This model has been superseded by the Olympus WS-813 - click here

The Olympus WS-760M is designed to be plugged directly into your computer for fast file transfer and recharging. With an amazing 8GB of internal memory and an additional microSD card slot, store thousands of songs and listen to them in impressive stereo sound with track and artist name clearly displayed on the large LCD. Alternatively listen to the radio with the new FM tuner. Stereo microphones and the Scene Select Function always provide the best sound recording, no matter the environment.
Eliminating the need for a pen and paper, these lightweight WS series recorders slip easily into any pocket. They boast outstanding Olympus recording in high quality linear PCM .wav, .mp3 or .wma formats and excellent playback quality while offering exceptional value for money. Stylish and high-performing, each of the latest WS series models offers unparalleled ease-of-use.
This recorder, the Olympus WS-760M, is perfect for interviews, small meetings and for capturing the presenter at a lecture or conference.

Direct Link to your Mac/PC
With the "USB Direct" design, it is easy to transfer your files to your Mac or PC. Just plug the recorder into your computer for fast downloads – no cables needed.

In-built FM Tuner
Allows you to enjoy your favorite radio shows and music with the in-built FM Tuner.

In-built 8GB Flash Memory and MicroSD Card Compatibility
With 8GB of internal memory and more than 2,100 hours of recording time, you'll be able to capture notes, lectures, and more – and still have room to store documents. Add extra memory with a 16GB microSD card.

Multiple Language Support
The large LCD is capable of displaying eight different languages: English, German, French, Spanish, Italian, Russian, Polish and Chinese – a plus for accessibility.

25 Hours of Battery Life
There's up to 25 hours of recording capability with the WS-760M's long-life battery with one AAA battery.

Multi Format Stereo Recording
Record and play back stereo audio in all three of the standard high-function formats: MP3, WMA and PCM.

Get the Best Sound with Scene Select Functionality
Wherever you are, whether it's a conference room, large hall, or at home dictating, the microphones will automatically adjust to capture the best sound depending on your setting.

Voice Activation Functionality
A variable control voice acuator allows the voice recorder to automatically start and stop recording based upon the volume of noise, allowing you to save time and energy. 

Directional Stereo Microphone
Built-in stereo microphone that features state-of-the-art technology to allow switching of the microphone directionality from wide to zoom. The directional stereo microphone ensures that whether you are recording performances or lectures from a distance or close by; you will get the best recording you can from the WS-760M.

Playback Speed Control
Gives you the flexibility to adjust the speed at which you play back your audio file. 

Easy File Management
Organize up to 200 files in each of the five available folders for quick retrieval and storage convenience.

Olympus WS-760M Technical Specs
Classification
          Product Class    Digital Notetakers with Direct PC Connection
          Mobile / Stationary    mobile

Storage Media
          Internal / Removable Media    Internal + Removable
          SD / SDHC card    No
          microSD / microSDHC card    Yes
          Internal memory    8 GB

USB functionality
          USB Speed    USB 2.0
          USB Audio Class    Yes
          USB storage class    Yes
          USB HID    Yes

Display
          Display colour    White
          Display Backlit    Yes
          Display Size    27.6 x 23.9 mm 1.36 ''
          Display Type    Full Dot Matrix Display
          Font size setting    No
          Contrast Adjustment    Yes

Device operation
          Main Switch    Push
          HOLD switch    Yes
          Power switch    Yes

Recording Modes
          Recording format    WMA / MP3 / PCM WAV
          Max Recording Times
          .WMA STXQ    135 h
          .WMA STHQ    270 h
          .WMA STSP    542 h
          .WMA HQ    542 h
          .WMA SP    1067 h
          .WMA LP    2122 h

          .MP3 256 kbps    69 h
          .MP3 128 kbps    138 h

          .WAV PCM 44.1 kHz 16 bit    12 h 30 min

Playback Modes
          Playback format    PCM (WAV) / MP3 / WMA

Sampling frequency
          STXQ    44.1 kHz / 128 kbps
          STHQ    44.1 kHz / 64 kbps
          STSP    22 kHz / 32 kbps
          HQ    44.1 kHz / 32 kbps
          SP    22 kHz / 16 kbps
          LP    8 kHz / 8 kbps
          MP3    8-44.1kHz / 8-320kbps
          PCM    44.1 kHz 16 bit

Frequency response
          STXQ    
          STHQ    
          STSP    
          HQ    200 - 13.000 Hz
          SP    200 - 7.000 Hz
          LP    200 - 3.000 Hz
          256 kbps (MP3)    
          192 kbps (MP3)    
          128 kbps (MP3)    
          48 kbps (MP3)    
          44.1 kHz (PCM)    

Record function
          Recording Scenes    Yes
          Direct recording    No
          New button    No
          Partial Erase    No
          Erase all files    Yes
          Erase single files    Yes
          Handsfree recording function via optional footswitch    No
          Verbal annotations (up to 32 per file)    No
          Continuous Recording    No
          Manual Rec level control    No
          Telephone recording    No
          Zoom Mic. Setting (DVM)    Yes
          Noise canceling function    Yes
          Voice filter    Yes
          Timer recording    No
          VCVA recording    Yes
          Index    Up to 16 per file
          Rec Monitor    Yes
          Insert    No
          Overwrite    No
          Low-cut filter    Yes

Playback function
          Playback Scenes    Yes
          Quick Review    No
          Forward / Reverse Skip    Yes
          Single music file repeat    Yes
          Single music folder repeat    Yes
          Equalizer    Yes
          Random playback    No
          EUPHONY    Yes
          Intro scan    No
          Reverb    No
          Skip Playback    No
          Alarm playback    No
          Repeat playback    Yes
          Continuous playback    Yes
          Cue/Review    No
          Fast forward and rewind    Yes
          Playback Speed Control    Yes

Data organisation
          Folder voice    5
          Files per folder    200
          File move    No
          Folder Audible    -
          Time/date info    Yes
          Folder music    300
          Folder Podcasts    -

Workflow function
          Author ID Setting    No
          Worktype ID Setting    No
          Priority setting    No
          Pending File    No

Other Features
          FM Radio Tuner & Recorder    Yes
          Configurable Firmware    No
          Audible support    No
          Podcast support    No
          Remote Control    No
          Voice feedback / guidance    No
          beep signal (system sound)    Yes
          Daisy Support    No
          Image support    No
          Text to Speech Processing    No
          Visual Index function    No
          Voice commands    No
          LED    REC (red) / PLAY (green)

Software
          corresponding solution    
          corresponding Audio software (name)    Sonority

Interfaces Input
          SD / SDHC interface    
          Microphone sensitivity    High / Middle / Low
          Power jack    No
          PC interface    USB storage class
          Microphone jack    3.5 ø mm jack, impedance 2 kΩ or more
          Microphones    Built-in stereo microphones

Interfaces Output
          Speaker Diameter    Built-in ø 18 mm round dynamic speaker
          Max. working output    250 mW or more (8 Ω speaker)
          Earphone jack    3.5 ø mm jack, impedance 8Ω or more

Power Supply
          Power Supply    one AAA battery AAA Ni-MH rechargeable battery (charge inside device) or AAA battery
          Alkaline battery life    Recording: 25 h (LP mode)
Playback: 30 h via earphones
          Ni-MH battery life    
          Docking station with recharge function    No
          Device standalone recharge function via USB    Yes
          Device standalone recharge function via AC adapter    No

Dimensions
          Weight    51 g (incl. batteries)
          WxHxD    98.5 x 40 x 11 mm (without protrusions)
          Housing colour    Silver Grey
          Housing material    Plastic

Languages
          Languages Audio Using Instruction    No
          Menu languages    English, German, French, Spanish, Italian, Russian, Polish, Chinese

Hardware Security
          Lock single files    Yes
          Device lock by PIN code    No
          Device lock by Fingerprint    No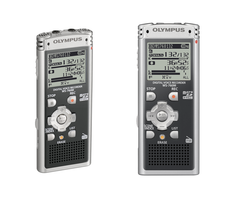 Sale
+ CLICK IMAGE TO ZOOM