Olympus VN-712PC - 2Gb Digital Voice Recorder
Sorry, this product is temporarily out of stock.
Click here for the latest VN series voice recorders
The new Olympus VN-PC series is absolutely ideal for anybody looking for a user-friendly voice recorder with outstanding long battery life. The VN-712PC benefits from recording in the popular mp3 audio format and additional features include a new microSD slot and Voice Filter options. As well as featuring probably the best low-noise microphone in its class for superior sound reproduction, it also has a high-speed USB connection for organising and archiving recordings on a PC or Mac, or sharing them via e-mail or DropBox - and all this with great ease. Moreover the new calendar search allows quick and simple file searching. And the benefits don't stop here either. The VN-712PC includes the low-cut filter for noise reduction while recording, the Scene Select and Automatic Recording (VCVA) features and 99 Index Marks - all designed for maximum user-friendliness.
USB connection for fast downloading to PC or Mac
2GB internal memory / up to 800 hours recording (LP mode)
Calender search function
microSD(HC) Slot
Voice and Low-cut filter
High sound quality: WMA file format and popular mp3 format
Recording Scenes
5 folders for file storage, 200 messages per folder
Voice activated recording (VCVA)
Includes case
Long battery life
Built-in stand
Olympus VN-712PC Technical Specs
Classification
- Product Class Digital Notetaker with PC Connection
Storage Media
- Internal / Removable Media Internal + Removeable
- microSD / microSDHC card Yes
- Internal memory 2 GB
USB functionality
- USB Speed USB 2.0 High Speed
- USB Audio class No
- USB Storage class Yes
- USB HID No
Display
- Display colour White
- Display Backlit No
- Display Size 29 x 29 mm / 1.61 ''
- Display Type Full Dot Matrix Display (108 x 84)
- Font size setting Yes
Device operation
- HOLD switch Yes
- Power switch Yes
Recording Modes
- Recording format WMA / MP3
- .WMA - HQ 131 h
- .WMA - SP 258 h
- .WMA - LP 823 h
- .MP3 - 192 kbps 22 h
- .MP3 - 128 kbps 33 h 30 min
- .MP3 - 48kbps 89 h 30 m
- Maximum Recording Time 823 h (LP mode)
Playback Modes
- Playback format WMA (5kbps - 320kbps)
- Playback format MP3 (8 kbps - 320 kbps)
Sampling frequency
- HQ 44.1 kHz / 32 kbps
- SP 22 kHz / 16 kbps
- LP 8 kHz / 5 kbps
- MP3 44.1kHz / 48 - 192kbps
Frequency response
- WMA HQ 70 - 16.000 Hz
- WMA SP 70 - 8.000 Hz
- WMA LP 70 - 3.000 Hz
- 192 kbps (MP3) 70 - 19.000 Hz
- 128 kbps (MP3) 70 - 17.000 Hz
- 48kbps (MP3) 70 - 17.000 Hz
Record function
-Recording Scenes: Memo, Meeting, Conference, Speech-Recognition, User Defined Setting
- Partial Erase No
- Erase all files Yes
- Erase single files Yes
- Erase folders No
- Manual Rec level control No
- Zoom Mic. Setting (DVM) No
- Timer recording No
- VCVA recording: Yes VCVA (voice activation) for hands free recording
- Index Up to 99 per file
- Rec Monitor Yes
- Overwrite No
- Low Cut-Filter Yes
- Voice Sync No
Playback function
- Noise canceling function No
- Forward / Reverse Skip Yes
- Playback Speed Control Yes
- Playback speed Fast (10 steps Max. x2.0) / Slow (5 steps Min. x0.5)
- Playback Scenes No
- File Playback Yes
- Folder Playback Yes
- Repeat playback Yes
- Voice Changer No
- A-B repeat playback Yes
- Sound Enhancement (Voice Playback) Yes
- Voice filter Yes
- FF/REW Yes
Data organisation
- No. of folders for Voice 5
- Files per folder 200
- File move No
- Folder Audible: no audible support
- File Copy (Folder to Folder) No
- File divide Yes (.mp3 files only)
- Calendar Search No
Other Features
- Voice guidance No
- Podcast support No
- Beep signal (system sound) Yes
- Radio No
Software
- Corresponding Audio software (name) Sonority
Interfaces Input
- Microphone sensitivity HI/LO
- PC interface USB Storage class
- Microphone jack Yes
- Microphones Built-in mono microphone
Interfaces Output
- Speaker Diameter Built-in ø 28 mm round dynamic speaker
- Max. working output 250mW
- Earphone jack Yes

Power Supply
- Power Supply 2 x AAA batteries or Ni-MH rechargable batteries
- Alkaline battery life Recording: 72 h (LP mode)
- Playback: 68 h via earphones
- Device standalone recharge function via USB No
Dimensions
- WxHxD 108 x 39 x 16.8 mm
- Weight 71 g
- Housing colour Black
- Housing material Plastic
Languages
- Menu languages JP/EN/FR/DE/IT/ES/RU/PL/BU/CS/SV/NL/DA/CN
Hardware Security
- Lock single files Yes
Operating Systems & Requirements
- Windows Operating system: Windows XP (SP2 or later), Windows Vista, Windows 7
- Apple Macintosh Operating system: Mac OS X 10.4.11 - 10.7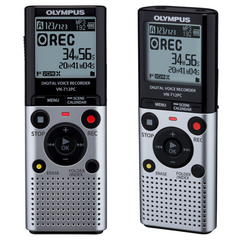 + CLICK IMAGE TO ZOOM