Olympus VN-711PC - 2Gb Digital Voice Recorder
Sorry, this product is temporarily out of stock.
Click here for the latest VN Series voice recorders
The new Olympus VN-PC series is absolutely ideal for anybody looking for a user-friendly digital voice recorder with outstanding long battery life. As an excellent entry-level device the VN-711PC offers excellent WMA recording quality and 2GB of memory enabling an outstanding recording time of more than 800 hrs in LP mode. As well as featuring probably the best low-noise microphone in its class for superior sound reproduction, it also has a high-speed USB connection for organising and archiving recordings on a PC or Mac, or sharing them via e-mail or DropBox – and all this with great ease. And the benefits don't stop here either. They include the low-cut filter for noise reduction while recording, the Scene Select and Automatic Recording (VCVA) features and 99 Index Marks – all designed for maximum user-friendliness.
USB connection for fast downloading to Mac or PC
2GB internal memory / up to 800 hours recording (LP mode)
Recording Scenes
Low Cut-Filter
5 folders for file storage, 200 messages per folder
Voice activated recording (VCVA)
Long battery life
Built-in stand
Olympus VN-711PC Technical Specs
Classification
- Product Class Digital Notetaker with PC Connection
Storage Media
- Internal / Removable Media Internal only
- microSD / microSDHC card No
- Internal memory 2 GB

USB functionality
- USB Speed USB 2.0 High Speed
- USB Audio class No
- USB Storage class Yes
- USB HID No

Display
- Display colour White
- Display Backlit No
- Display Size 29 x 29 mm / 1.61 ''
- Display Type Full Dot Matrix Display (108 x 84)
- Font size setting Yes

Device operation
- HOLD switch Yes
- Power switch Yes

Recording Modes
- Recording format WMA
- HQ 131 h
- SP 258 h
- LP 823 h
- Maximum Recording Time 823 h (LP mode)

Playback Modes
- Playback format WMA (5kbps - 320kbps)

Sampling frequency
- HQ 44.1 kHz / 32 kbps
- SP 22 kHz / 16 kbps
- LP 8 kHz / 5 kbps

Frequency response
- HQ 70 - 16.000 Hz
- SP 70 - 8.000 Hz
- LP 70 - 3.000 Hz

Record function
-Recording Scenes: Memo, Meeting, Conference, Speech-Recognition, User Defined Setting
- Partial Erase No
- Erase all files Yes
- Erase single files Yes
- Erase folders No
- Manual Rec level control No
- Zoom Mic. Setting (DVM) No
- Timer recording No
- VCVA recording: Yes VCVA (voice activation) for hands free recording
- Index Up to 99 per file
- Rec Monitor Yes
- Overwrite No
- Low Cut-Filter Yes
- Voice Sync No

Playback function
- Noise canceling function No
- Forward / Reverse Skip Yes
- Playback Speed Control Yes
- Playback speed Fast (10 steps Max. x2.0) / Slow (5 steps Min. x0.5)
- Playback Scenes No
- File Playback Yes
- Folder Playback Yes
- Repeat playback Yes
- Voice Changer No
- A-B repeat playback Yes
- Voice filter Yes
- FF/REW Yes

Data organisation
- No. of folders for Voice 5
- Files per folder 200
- File move No
- Folder Audible: no audible support
- File Copy (Folder to Folder) No
- File divide No
- Calendar Search No

Other Features
- Voice guidance No
- Podcast support No
- Beep signal (system sound) Yes
- Radio No

Software
- Corresponding Audio software (name) Sonority

Interfaces Input
- Microphone sensitivity HI/LO
- PC interface USB Storage class
- Microphone jack Yes
- Microphones Built-in mono microphone

Interfaces Output
- Speaker Diameter Built-in ø 28 mm round dynamic speaker
- Max. working output 250mW
- Earphone jack Yes

Power Supply
- Power Supply 2 x AAA batteries or Ni-MH rechargable batteries
- Alkaline battery life Recording: 72 h (LP mode)
- Playback: 68 h via earphones
- Device standalone recharge function via USB No

Dimensions
- WxHxD 108 x 39 x 16.8 mm
- Weight 71 g
- Housing colour Black
- Housing material Plastic

Languages
- Menu languages JP/EN/FR/DE/IT/ES/RU/PL/BU/CS/SV/NL/DA/CN

Hardware Security
- Lock single files Yes

Operating Systems & Requirements
- Windows Operating system: Windows XP (SP2 or later), Windows Vista, Windows 7
- Apple Macintosh Operating system: Mac OS X 10.4.11 - 10.7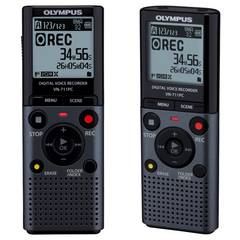 + CLICK IMAGE TO ZOOM