Plantronics .Audio DSP 400
The very popular Plantronics DSP-400 has been discontinued. We recommend you have a look at the Philips SpeechOne headset as a good quality alternative. 
Digitally-enhanced USB, stereo PC/Mac headset.

Excellent stereo sound in a lightweight and comfortable headset. The Plantronics .Audio 400 DSP with noise-cancelling microphone is great for transcription, speech recognition, internet telephony and video conferencing.

Digital Signal Processing (DSP) delivers up to 35% reduction in background noise and maintains crisp, clear voice transmission.
This has to be one of our favourite headsets, we use these as our transcription headsets for our onsite staff at The Transcription People.
Perfect for transcription, voice recognition or for chatting over Skype or VoIP the Plantronics .Audio DSP 400 is an excellent all round headset and mic package. 
Compatible with both Mac and Windows, plug and play there is no software required to be up and running with the DSP-400 in seconds.
Recommended for use with Dragon NaturallySpeaking for Windows and for use with Dragon Dictate for Mac, the noise cancelling features of the adjustable boom mic helps provide clean clear audio into Dragon for highly accurate voice recognition.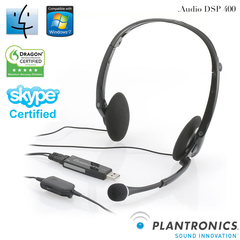 Sale
+ CLICK IMAGE TO ZOOM