Olympus Foot Switch Configuration Tool for Mac
This is free software from Olympus Australia. It should only be used if you have an Olympus RS-28H or RS-31H USB transcription foot pedal.
Do Not Use This Software if you own Olympus ODMS Transcription Module for Windows or DSS Player Plus v7 for Mac.
Keyboard commands can be assigned using the Foot Switch Configuration Tool. This lightweight application does not require installation, and is extremely easy to use. Configuring a foot switch is straightforward, even for first time users, thanks to the simple interface design.
The configuration tool can be used to map hotkeys from non Olympus software products (e.g. Express Scribe, Windows Media Player etc) to the pedal on the foot switch.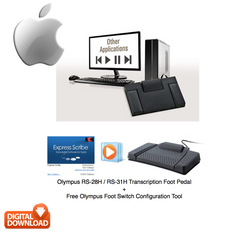 + CLICK IMAGE TO ZOOM