Olympus ME-33 Boundary Microphone
The new Olympus ME-33 is an unobtrusive yet stylish addition to any meeting table. The ME-33 boundary microphone is the next generation of omni-directional sound capture equipment from Olympus. Combined with an Olympus professional voice recorder (e.g. Olympus DM-3 meeting recorder), the ME-33 is the ideal solution for recording meetings, focus groups, board meetings, conference calls and more in large rooms with many attendees.
The Olympus ME-33 boundary microphone is purpose-built to clearly record voice at a distance. It automatically cuts extremely high- and low-frequency sounds, improving audio quality and recording usability.

RECORD FROM A DISTANCE
The ME-33 is a powerful, omni-directional microphone designed to record voices from a distance – even in the largest conference rooms.
SUPERIOR SOUND QUALITY
By automatically cutting extremely high- and low-frequency sounds, the ME-33 consistently produces clear, usable audio files.
SCALABLE RECORDING POWER
Connect multiple microphones to expand the ME-33′s capabilities – up to six units for stereo recording and three units for monaural recording.
Technical Specifications
Directionality: Omni-directional
Sensitivity: -35dB at 1kHz (0dB=1V/Pa)
Frequency Response: 70-10,000Hz
Mic S/N: More than 60dB
Cascade Connection: Yes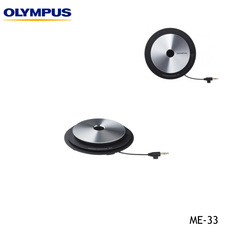 Sale
+ CLICK IMAGES TO ZOOM