Olympus DS-5000 - Digital Dictaphone
Sorry, this product is temporarily out of stock.
The Olympus DS-5000 was discontinued by Olympus Australia in May 2012 - This model has been superseded by the Olympus DS-7000 

Click here to see the Olympus DS-7000 vs DS-5000 comparison
The Olympus DS-5000 is an advanced professional digital dictaphone voice recorder stacked with premium features and enhanced DSS Player Pro Dictation software for outstanding performance. It's designed inside and out to provide you with all the conveniences you need for easy, flexible and productive dictation.
SLIDE SWITCH OPERATION.
Quiet and easy to use slide switch results in high performance, comfort, and increased productivity.

DSS PLAYER PRO SOFTWARE.
DSS Player Pro software provides direct recording to your PC, automatic retrieval of typed documents, automatic distribution of recordings via email, and much more.

THREE PROGRAMMABLE BUTTONS.
Provides customized functions to suit your dictation needs. The recorder firmware can also be programmed for additional functionality and flexibility.

MEMORY AND STORAGE.
Supports SD and Micro SD, dual Memory Cards. 512MB microSD card included for 38 hours and 45 minutes of high quality recording in QP mode.

DEVICE LOCK FUNCTION WITH PASSWORD.
Lock or password protect your files to keep them safe and secure.

MULTI-FUNCTION CRADLE.
Recharges the Ni-MH battery pack, allows hands-free recording, and provides for fast and easy uploading/downloading of data to your PC. 
Olympus DS-5000 Features & Benefits

Mac & Windows Compatible.
Up to 32 index marks per file.
SD and microSD, dual memory cards are supported. 512Mb microSD card included.

Optional barcode scanner.
Device lock function with password lets you keep your files safe and secure.
Durable USB connector and battery door.
Verbal comment function. Instantly search and play back verbal comments using DSS Player software.
LCD supports and displays multiple languages, including English, French and German.
Rechargeable Ni-MH battery pack for added convenience automatically charges when the recorder is placed in the cradle.
Centralized firmware update.
Low power consumption allows for long recording times.
Centralized navigation buttons for easy data input and settings.
Manager tool for easy setup and customization.
Legal - Pro Dictation & Transcription Overview

Medical - Pro Dictation & Transcription Overview
The Olympus DS-5000 by default records in .ds2 (DSS Pro) audio format. The recorder can also be set to record in .dss or classic mode for compatibility with older Olympus transcription kits like the AS-2300 and AS-4000. Click the YouTube logo for our video on how to set classic mode.
OS Compatible:    
Windows XP, Vista, 7 (32bit & 64bit), 2003 Server, 2008 Server
Mac OS X 10.6 (Snow Leopard) & 10.7 (Lion)

Product Class:

Professional Dictation Device

Mobile / Stationary:

Mobile and Stationary

SD / SDHC card:

Yes

microSD / microSDHC card:

Yes

USB Speed:

2.0

Display colour:

Black and White

Display Backlit:

Yes

Display Size:

1.74"

Main Switch:

Slide (Record/Stop/Play/Review)

HOLD switch:

No

Power switch:

Yes

Programmable button:

3 Smart Buttons

Recording format:

DSS Pro

Recording SP:

79h 30min (with supplied 512 MB internal microSD card)

Playback format:

DSS Pro

Sampling SP:

79h 30min (with supplied 512 MB internal microSD card)

Direct recording:

Yes

New button:

Yes

Partial Erase:

Yes

Erase all files:

Yes

Erase single files:

Yes

Handsfree recording function via optional footswitch:

Yes

Verbal annotations (up to 32 per file):

Yes

Continuous Recording:

No

Manual Rec level control:

No

Telephone recording:

No

Zoom Mic. Setting (DVM):

No

Timer recording:

No

VCVA recording:

Yes

Index:

Up to 32 per file

Rec Monitor:

Yes

Insert:

Yes

Overwrite:

Yes

Noise canceling function:

No

Voice filter:

No

Forward / Reverse Skip:

Yes

Repeat playback:

No

Cue/Review:

Yes

Fast forward and rewind:

Yes

Playback speed:

Adjustable

Folder voice:

40,725

Files per folder:

200

Time/date info:

Yes

Calendar Search:

FALSE

Author ID Setting:

Yes

Worktype ID Setting:

Yes

Priority setting:

Yes

Pending File:

Yes

Corresponding Audio software (name):

DSS Player Pro R5 Dictation Module (Win)

DSS Player Plus v7 (Mac)

SD / SDHC interface:

Supports optional Barcode scanner

Microphone sensitivity:

Dictation / Conference

PC interface:

USB cable and docking station

Microphones:

Built-in mono microphone

Speaker Diameter:

Built-in ø 23 mm round dynamic speaker, 300 W

Max. working output:

250 mW or more (8 Ω speaker)

Power Supply:

2 x AAA Batteries, Rated voltage: 3 V

Docking station with recharge function:

Yes

Device standalone recharge function via USB:

Yes

Device standalone recharge function via AC adapter:

Yes
What Is The Difference? DS-5000 vs DS-3400 vs DS-2400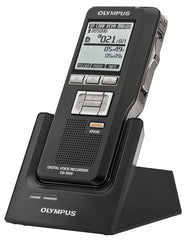 Sale
+ CLICK IMAGES TO ZOOM






See Also