Olympus PRO Dictation / Transcription Bundle
This bundle has been replaced by the Olympus DS-7000/AS-7000 Professional digital dictation and transcription bundle.
Bundle and save with this Pro dictation and transcription package containing 1x Olympus DS-5000 digital dictaphone and 1x Olympus AS-5000 transcription kit.
** SAVE A MASSIVE $371 OFF RRP **
Olympus DS-5000 Pro Digital Dictation Voice Recorder

Top of the range Olympus digital dictaphone, perfect for the professional. This fully featured digital dictaphone is an Olympus top seller and for good reason. The DS-5000 comes complete with a charging/syncing dock to fully automate your work flow. Simply drop the DS-5000 into its cradle the rechargeable batteries are topped up and your dictation despatched using the included Olympus DSS Player Pro v5 software.
Olympus AS-5000 Pro Digital Transcription Kit

Pro transcription kit to complement your Olympus digital recorder fleet. Receive, transcribe and return transcription to multiple users using this DSS Player Pro v5 transcription module included with the RS-28 USB foot pedal and Olympus transcription headset.
This bundle is best suited to Windows users. Mac users look for the DS-5000 / AS-2400 bundle.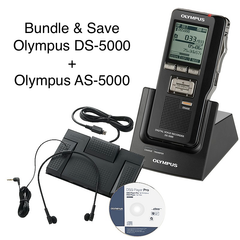 Sale
+ CLICK IMAGE TO ZOOM