Olympus DS-2500 Digital Dictation Recorder
Sorry, this product is temporarily out of stock.
The Olympus DS-2500 was discontinued and replaced by the
Olympus DS-2600
in December 2018.
High Quality Performance In An Easy To Use Digital Device
Give efficiency a lift in your workplace with the attractively styled, metal-bodied new Olympus DS-2500 digital dictation device. Ideal for all busy professionals, this powerful tool lets dictations and notes be taken both at the desk and on the go to ensure a maximum utilisation of precious time to fully exploit productivity potentials.
Direct Link to your Mac/PC
With the "USB Direct" design, it is easy to transfer your files over to your Mac or PC. Just plug the recorder into your computer for fast downloads.
Easy File Management
Manage audio files in up to 5 customisable folders.

Customisable Navigation Pod
Allows users to control how they navigate and create short cuts that suit them.

Erase Button
Use the easily accessible "Erase" button to quickly erase single files or entire folders.

Conference and Dictation Settings
Switch between "Conference" and "Dictation" settings.

New Button
Finish one dictation and begin the next with a push of the "New" button.

Voice Recognition
Compatible with voice recognition software.

Portable
Compact and lightweight design for easy portability.

Included 2GB SD Card
Enjoy plenty of recording time with the included 2GB SD Card removable media.

32 Hours battery life
Enjoy efficient battery power: up to 32 hours provided by two AAA batteries.

Large Display with White LED backlight
A full dot, backlit LCD provides for easy viewing, even in bright conditions, so you can easily watch your recording times, battery life status and more.

DSS Format Recording
Save files in high-compression DSS format using the included DSS Player software.

2 Recording modes
Choose between SP and QP recording modes.

Easily retrive the key points of your recording
Index marks let you specify a particular point in a recording or playback for easy retrieval.

Voice Activated Variable Control
Never miss a beat with the voice activated Variable Control Voice Actuator feature that records audio as soon as it senses sound. It conserves memory and battery life too.


Olympus DS-2500 Technical Specs
| | |
| --- | --- |
| Product Class: | Digital Dictation Device |
| Mobile / Stationary: | Mobile and Stationary |
| SD / SDHC card: | Yes |
| microSD / microSDHC card: | No |
| USB Speed: | 2.0 |
| Display colour: | White |
| Display Backlit: | Yes |
| Display Size: | 1.74" |
| Main Switch: | Push |
| HOLD switch: | Yes |
| Power switch: | Yes |
| Programmable button: | 3 Smart Buttons |
| Recording format: | DSS Pro |
| Recording SP: | 323 h 35 min (with supplied 2 GB SD card) |
| Playback format: | DSS Pro |
| Sampling SP: | 323h 35min (with supplied 2 GB SD card) |
| Direct recording: | Yes |
| New button: | Yes |
| Partial Erase: | Yes |
| Erase all files: | Yes |
| Manual Rec level control: | No |
| VCVA recording: | Yes |
| Index: | Up to 32 per file |
| Rec Monitor: | Yes |
| Insert: | Yes |
| Overwrite: | Yes |
| Forward / Reverse Skip: | Yes |
| Repeat playback: | No |
| Cue/Review: | Yes |
| Fast forward and rewind: | Yes |
| Playback speed: | Slow/Normal/Fast |
| Folder voice: | 5 |
| Files per folder: | 200 |
| Time/date info: | Yes |
| Calendar Search: | False |
| Author ID Setting: | Yes |
| Worktype ID Setting: | No |
| Priority setting: | No |
| Pending File: | No |
| corresponding Audio software (name): | DSS Player Dictation Module |
| Microphone sensitivity: | Dictation / Conference |
| PC interface: | USB Cable |
| Microphones: | Built-in mono microphone |
| Speaker Diameter: | Built-in ø23 mm round dynamic speaker |
| Max. working output: | 300mW or more (8 Ω speaker) |
| Power Supply: | 2 x AAA Batteries |
| Docking station with recharge function: | No |
| Weight: | 105g (incl. battery) |
| WxHxD: | 113.5 x 50 x 17 mm |
| Menu languages: | English, German, French, Spanish, Italian, Russian |
| Lock single files: | Yes |
| Device lock by PIN code: | No |
| Device Locky by Fingerprint: | No |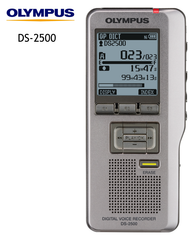 Sale
+ CLICK IMAGE TO ZOOM