Olympus DR-2300 Slide Switch & Trackball Dictation Mic
The Olympus DR-2300 was discontinued by Olympus Australia in 2018 - This model has been superseded by the RecMic II Range
Keep all the details together.
The Olympus DR-2300 is designed to enable easy integration in any work environment – no matter if in a doctor or lawyer practice. With four designated programmable buttons on the front, as well as the one on the back, the device can be fully customized, enabling complete systems integration. To provide the most secure and efficient dictation workflow, the DR-2300 offers a barcode scanner (available separately), which enables automatic allocation of voice files to client, case or patient records.
Improve workflow through bar code scanning
The DR-2300 can improve your workflow when you add the optional SC-1 bar code scanner. The SC-1 bar code scanners allows a user to scan in patient reference details at a click improving accuracy and reducing processing time.  

Dedicated Ergonomic Zones
The DR-2300 features dedicated zones for controlling dictation, PC functionality and special functions; making the device easier to hold with more comfortable and intuitive operation, allowing users a greater range of movement without inadvertently pressing buttons.  

New Optical Trackball
The newly designed trackball incorporates a smooth surface, high precision laser and large diameter to improve accuracy and deliver consistent PC navigation.

Enhanced Slide Switch Design
Olympus has been renown for our slide switches in dictation equipment and in the new Directrec series we have enhanced this already applauded device. The DR-2300 slide switch feels more natural and has improved reliability.

Ergonomic Cylindrical Grip and Index Finger Rest
The improved, narrower grip on the DR-2300 allows the device to sit in the hand comfortably for prolonged periods of time. The carefully placed index finger rest further enhances the balance and distribution of the DR-2300's weight.  By using this rest, the hand will naturally fall into the correct position allowing comfortable use for prolonged periods of time.

Professional Grade USB Cable
Professional Grade USB Cable is 10x more durable (more than 20,000 operations in an Olympus durability test) than a regular USB cable.

4 Programmable Buttons
DR-2300 has 5 programmable (F1, F2, F3, F4 and 1 on the back) buttons across the front that can be easily customiszed to suit a particular preference or recording environment.

Remote Control
DR-2300 can be used as a remote control for the Olympus DSS Player Pro software** for both direct recording and editing recorded files on a PC.

User ID
Up to 10 user ID's and Work Types can be registered in DSS Player Pro.

Record in DSS Format
DR-2300 can save a recording as a file directly on a PC in DSS (Digital Speech Standard) format.

2 Recording Modes
Two recording modes, SP (Standard Playback) mode or LP (Long Playback) mode.

Index Marks
Up to 16 index marks can be set in a file.

High-Quality Microphone System
The enhanced, uni-directional microphone contained in a state-of-the-art housing delivers the highest possible audio quality for dictation and voice recognition.

Adjustable Microphone Sensor Quality
Microphone sensor quality can be altered to better suit recording conditions and environment.
Olympus Directrec Series II - DR-2300 Tech Specs
| | |
| --- | --- |
| Product Class: | Professional Dictation Device |
| Mobile / Stationary: | Stationary |
| USB Speed: | 2.0 |
| Main Switch: | Slide (Record/Stop/Play/Review) and Trackball |
| Programmable button: | 4 Programmable Buttons- F1, F2, F3 & F4 |
| Recording format: | DSS and PCM |
| Recording SP: | Direct records to PC - Determined by PC hard drive space |
| Playback format: | DSS and PCM |
| Overall (Hz): | 100-14,000 (with PCM recording) |
| Direct recording: | Yes |
| Handsfree recording function via optional footswitch: | Yes |
| Manual Rec level control: | No |
| Forward / Reverse Skip: | Yes |
| Repeat playback: | No |
| Calendar Search: | False |
| Author ID Setting: | Yes |
| Worktype ID Setting: | Yes |
| Priority setting: | Yes |
| Pending File: | Yes |
| corresponding Audio software (name): | DSS Player Pro R5 Dictation Module - not included |
| PC interface: | USB Cable 2.5m length |
| Microphones: | Built-in 10mm uni directional microphone |
| Speaker Diameter: | Built-in ø 28 mm round dynamic speaker |
| Max. working output: | 320mW or more (8 Ω speaker) |
| Power Supply: | USB |
| Lock single files: | No |
| Device lock by PIN code: | No |
| Device lock by Fingerprint: | No |


* Dragon NaturallySpeaking speech recognition software can be bundled with this product, simply select from the drop down above when ordering.
** Olympus DSS Player Pro R5 software can be bundled with this product, simply select from the drop down above when ordering.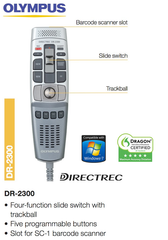 Sale
+ CLICK IMAGE TO ZOOM