Olympus DP-20 - Digital Voice Recorder
A fun digital voice recorder that merges simplicity with technology, the DP-20 from Olympus.
The Olympus DP-20 features the simple design and operation of micro cassette recorders but with the memory, recording quality, battery life and storage capacity of a digital device. Cassette tapes can be clunky and hard to keep track of. Easily capture and store your audio files on this compact digital recorder.
Please note the audio recorded on the DP-20 can only be played back on the DP-20, audio files can not be transferred to a computer.
Large LCD Display
The large LCD (1.78") allows quick viewing of file locations, recording status and battery life with its large font size.
Calendar Search Function
The Calendar Search Function allows you to easily search for files – by file name or date – and play them back with ease.
Never Make a Mistake again with Large Button Operation
The large Play, Stop and Record buttons on the DP-20 make easy to capture and play back the audio you want.
Built-in Large Speaker
To further enhance usability, the DP-20 features a 200mW 36mm round dynamic speaker, ensuring that you always get crystal clear sound.

In-built 1GB Flash Memory
Record up to 131 hours of uninterrupted audio recording in SP mode.

Multiple language support
The large LCD is capable of displaying seven different languages: English, German, French, Spanish, Italian, Russian and Polish  – a plus for accessibility.

63 Hours of battery life
Up to 63 hours of continuous operation with two AAA batteries.

131 hours recording time
Record up to 131 hours and 30 minutes of uninterrupted audio in SP mode.

2 Recording modes
Select from two recording modes to meet your needs: HQ for high quality or SP for Short Play extended recording.

Playback speed control
Gives you the flexibility to adjust the speed at which you play back your audio file.
Noise Cancellation
Dampen or minimize unwanted background sounds – so you record a clean, high-quality audio file.
| | |
| --- | --- |
| Product Class: | Digital Notetaker |
| Mobile / Stationary: | Mobile |
| SD / SDHC card: | No |
| microSD / microSDHC card: | No |
| Internal memory: | 1GB |
| Display colour: | Black & White |
| Display Backlit: | No |
| Display Size: | 1.78" |
| Main Switch: | Push |
| HOLD switch: | Yes |
| Power switch: | Yes |
| Recording format: | WMA Mono |
| Recording STXQ: | 67 h |
| Recording STHQ: | 131 h |
| Playback format: | WMA Mono |
| Sampling STXQ: | 44.1 kHz / 32 kbps |
| Sampling STHQ: | 22 kHz / 16 kbps |
| Overall (Hz): | 70-13,000 |
| Direct recording: | No |
| New button: | Yes |
| Partial Erase: | No |
| Erase all files: | Yes |
| Erase single files: | Yes |
| Handsfree recording function via optional footswitch: | No |
| Verbal annotations (up to 32 per file): | No |
| Continuous Recording: | No |
| Manual Rec level control: | No |
| Telephone recording: | No |
| Zoom Mic. Setting (DVM): | No |
| Timer recording: | No |
| Rec Monitor: | No |
| Insert: | No |
| Overwrite: | No |
| Low Cut-Filter: | No |
| Voice Sync: | No |
| Noise canceling function: | Yes |
| Voice filter: | No |
| Forward / Reverse Skip: | Yes |
| EUPHONY: | No |
| Repeat playback: | No |
| Continuous playback: | No |
| Gapless playback: | No |
| Fast forward and rewind: | Yes |
| Playback speed: | Adjustable 5 Levels: 50% - 150% |
| Folder voice: | Files are organized by date |
| Files per folder: | 99 per day |
| Time/date info: | visual only |
| Calendar Search: | True |
| Author ID Setting: | No |
| Worktype ID Setting: | No |
| Priority setting: | No |
| Pending File: | No |
| Podcast support: | No |
| Voice feedback / guidance: | No |
| AudioBook support: | No |
| Daisy Support: | No |
| Text to Speech Processing: | No |
| Visual Index function: | No |
| Voice commands: | No |
| Microphone sensitivity: | HI/LO |
| Microphones: | Built-in mono microphone |
| Speaker Diameter: | 36mm round dynamic internal speaker |
| Max. working output: | 200 mW |
| Power Supply: | 2 x AAA Batteries |
| Weight: | 78 g (incl. battery) |
| WxHxD: | 95 x 50 x 18.2 mm (without protrusions) |
| Menu languages: | English, German, French, Spanish, Italian, Russian, Polish |
| Lock single files: | Yes |
| Device lock by PIN code: | No |
| Device Locky by Fingerprint: | No |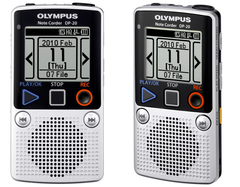 + CLICK IMAGE TO ZOOM