Olympus DM-5 Digital Voice Recorder
For the latest Olympus DM Series recorders please click here
The digital voice recorder that does it all and then some.

The Olympus DM-5 delivers everything you expect from an Olympus audio recorder, and then some. With its incredible 8GB of internal memory, it supports over 2,000 hours of recording and allows plenty of storage for your favorite songs. It also supports Daisy (Digital Accessible Information System) -- specialty software that converts textbooks into speech for the vision impaired and dyslexic.
The Olympus DM-5 is the replacement for the popular Olympus DM-550 digital voice recorder.
Download the Olympus DM-5 Instruction Manual
Mac & Windows 7 Compatible

The Olympus DM-5 is compatible with both Mac OS X 10.7 (Lion) and 10.6 (Snow Leopard) as well as Windows 7 (32bit & 64bit) operating systems.
DAISY Audio Book Support

The DM-5 features a in-built speech engine which can convert text data into speech, enabling support for DAISY files and audiobooks.
Usability is the Highest Priority
Easy operation for blind and visually impared people via the tactile buttons and voice guidance.
Large Colour LCD Display
Bright 2.2" color screen enables clear, easy navigation of menus and files.
Voice Guidance
A voice guidance system ensures seamless, user-friendly operation of all functions in the menu.
Voice Recognition
Use simple voice commands to create calendar entries, to-do lists and other basic functions.
In-built 8GB Flash Memory and MicroSD Card Compatibility
Record up to 2,000 hours of uninterrupted audio recording with removable microSD media that extends it to 512MB-16GB
Multiple Language Support
The text to speech function is available in 6 different languages: English, German, French, Spanish, Italian and Russian – a plus for accessibility.
29 Hours of Battery Life
You no longer need to worry about your battery dying at crucial moments. There is up to 29 hours of recording capability with the DM-5's long-life battery. This model also offers simple battery recharging, direct through the AC Adapter (included) to your computer. 

Multi Format Stereo Recording
Record and play back stereo audio in all three of the standard high-function formats: MP3, WMA and PCM.

Voice Activation Functionality
A variable control voice acuator allows the voice recorder to automatically start and stop recording based upon the volume of noise, giving you the benefit to saves time and energy.

Direct Link to your Mac/PC
With the "USB Direct" design, it is easy to charge your recorder and transfer your files over to your Mac or PC. Just plug the recorder into your computer for fast downloads and battery charges.

Olympus Sonority
Edit your files with Olympus Sonority sound editing software (included), which is compatible with PCs and MACs.

Playback speed control
Gives you the flexibility to adjust the speed at which you play back your audio file. 
| | |
| --- | --- |
| Product Class: | Digital Notetaker with PC Connection |
| Mobile / Stationary: | Mobile and Stationary |
| SD / SDHC card: | No |
| microSD / microSDHC card: | Yes |
| Internal memory: | 8 GB Flash Memory |
| USB Speed: | USB 2.0 High Speed Undefined |
| Display colour: | Full Colour |
| Display Backlit: | Yes |
| Display Size: | 35 x 46 mm / 2.2 '' |
| Main Switch: | Push |
| HOLD switch: | Yes |
| Power switch: | Yes |
| Programmable button: | 3 smart buttons |
| Recording format: | PCM (WAV) / MP3 / WMA |
| Recording STXQ: | 130 h |
| Recording STHQ: | 261 h |
| Recording STSP: | 522 h |
| Recording HQ: | 522 h |
| Recording SP: | 1029 h WMA |
| Recording LP: | 2043 h WMA |
| Playback format: | PCM (WAV) / MP3 / WMA |
| Sampling MP3: | 44.1kHz / 128 - 320kbps |
| Sampling PCM: | 44.1 - 48kHz / 16bit |
| Sampling WMA: | 8 - 44.1kHz / 8 - 128kbps |
| Overall (Hz): | 40-23,000 |
| Direct recording: | Yes |
| New button: | No |
| Partial Erase: | Yes |
| Erase all files: | Yes |
| Erase single files: | Yes |
| Verbal annotations (up to 32 per file): | No |
| Manual Rec level control: | No |
| Zoom Mic. Setting (DVM): | Yes |
| Timer recording: | Yes |
| VCVA recording: | Yes |
| Index: | Up to 16 per file |
| Rec Monitor: | Yes |
| Overwrite: | No |
| Low Cut-Filter: | Yes |
| Noise canceling function: | Yes |
| Voice filter: | Yes |
| EUPHONY: | Yes |
| Repeat playback: | Yes |
| Continuous playback: | Yes |
| Gapless playback: | Yes |
| Cue/Review: | Yes |
| Fast forward and rewind: | Yes |
| Playback speed: | Adjustable (50 - 200%) |
| Folder voice: | 5 |
| Files per folder: | 999 |
| File divide: | Yes (only PCM mode) |
| Calendar Search: | False |
| Author ID Setting: | No |
| Worktype ID Setting: | No |
| Priority setting: | No |
| Pending File: | No |
| Audible support: | Yes (advantages: one file, bookmark function, chapter marks, speech optimized compression, additional informations like title description, author informations) |
| Podcast support: | Yes |
| Remote Control: | RS30W (optional) |
| Voice feedback / guidance: | Yes |
| AudioBook support: | Yes |
| Daisy Support: | Yes |
| Text to Speech Processing: | Yes |
| Visual Index function: | Yes |
| Voice commands: | Yes |
| corresponding Audio software (name): | Sonority |
| Microphone sensitivity: | High / Middle / Low |
| PC interface: | USB Cable |
| Microphones: | Built-in stereo microphones |
| Speaker Diameter: | Built-in ø23 mm round dynamic speaker |
| Max. working output: | 280 mW or more (8 Ω speaker) |
| Power Supply: | 1 x Lithium-Ion Battery |
| Device standalone recharge function via USB: | Yes |
| Device standalone recharge function via AC adapter: | USB connecting AC adapter (A514) |
| Weight: | 98 g (incl. battery) |
| WxHxD: | 113.6 x 45.6 x 15.2 mm (without protrusions) |
| Menu languages: | English, German, French, Spanish, Italian, Russian |
| Voice Guidance languages: | English, German, French, Spanish, Italian, Russian |
| Languages Text to Speech Processing: | English, German, French, Spanish, Italian, Russian |
| Languages Voice commands: | English, German, French, Spanish, Italian, Russian |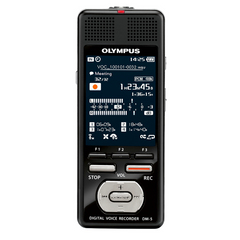 Sale
+ CLICK IMAGES TO ZOOM